Over 200+ Interview Questions to Help YOU SUCCEED in Medical School Interviews
We know how scary interviews are; The Aspiring Medics are here to help you through the process! In response to the COVID-19 pandemic, we have created a TAILOURED interview question bank with over 200+ questions on a range of topics from Medical Ethics, Coronavirus, Motivation for Medicine, the NHS and more!
Each station consists of:
Points to Include
Points to Avoid
Summary Infographic
Bad Answer Example
Bad Answer Analysis
Average Answer Example
Average Answer Analysis
Great Answer Example
Great Answer Analysis
Questions ranging from Easy, Medium and Hard Difficulty
Apply your knowledge through various difficulties to help ease you in as well as stretch and challenge your knowledge.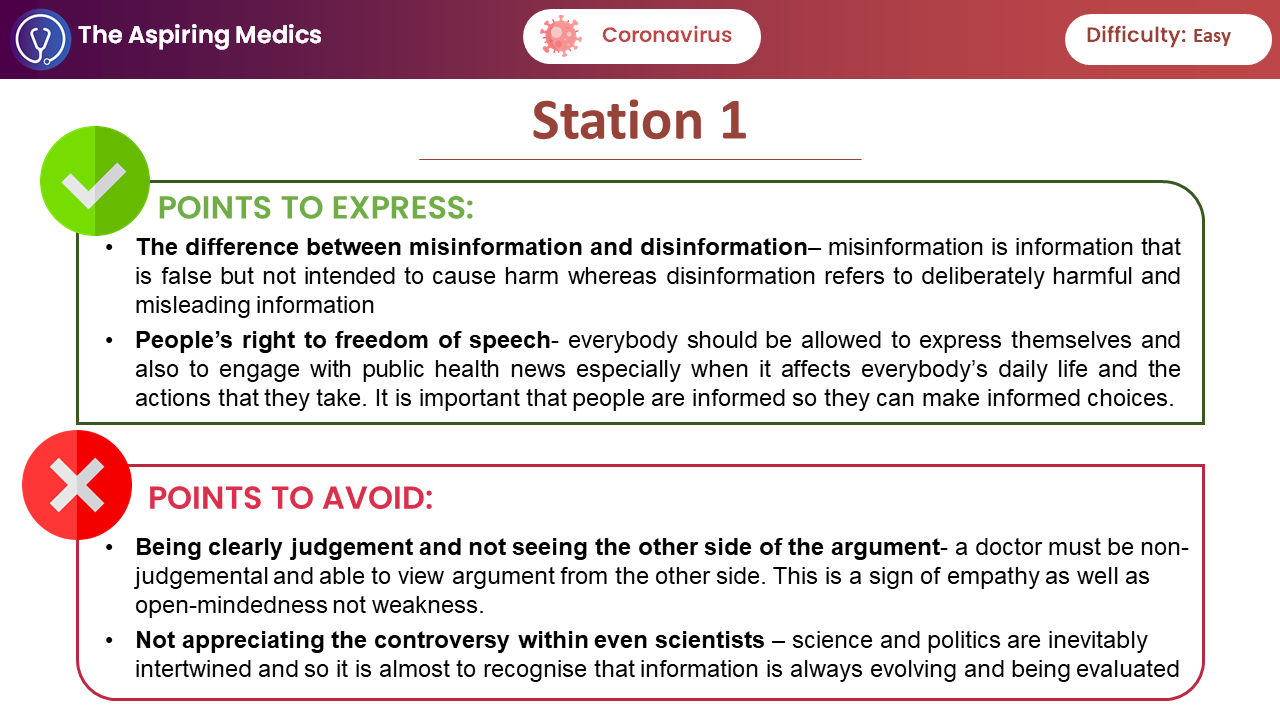 Points to Express and Points to Avoid
It is just as important to know what to include in an answer as it is to know what to avoid. Ensure you don't sabotage your answer!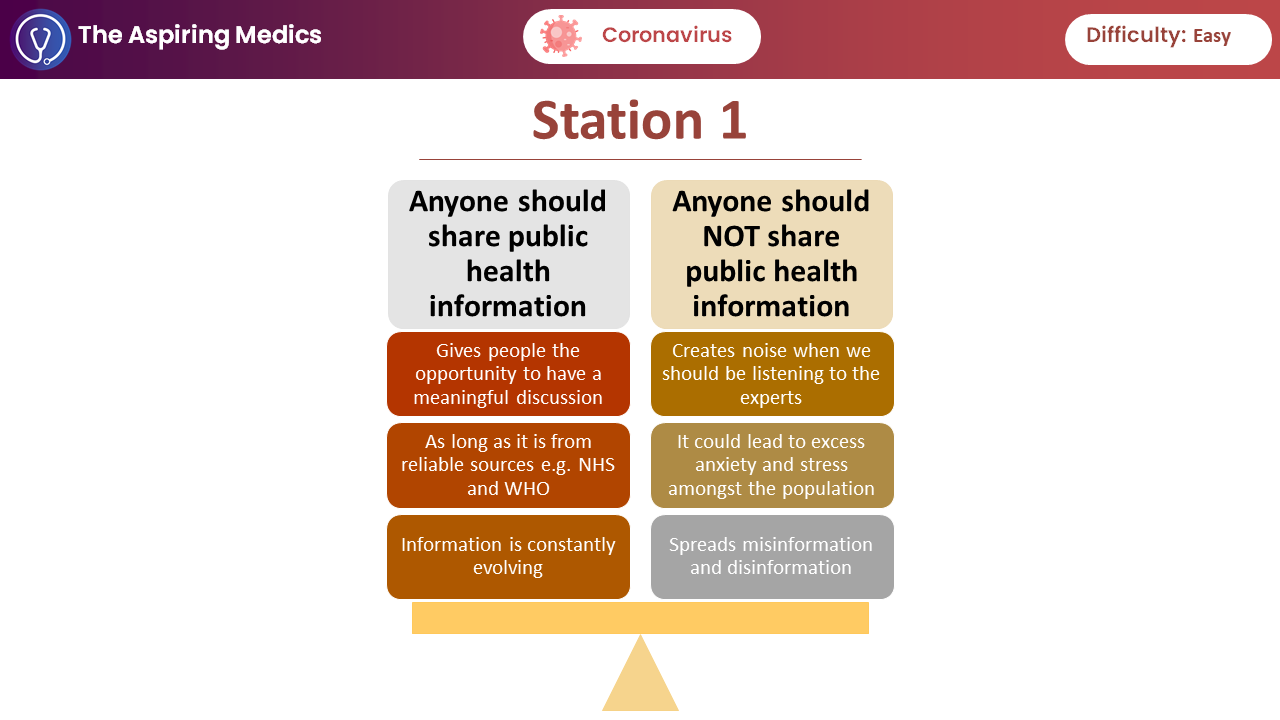 Summarising Infographics
Our colourful infographics will help you to visualise the topic and understand the core principles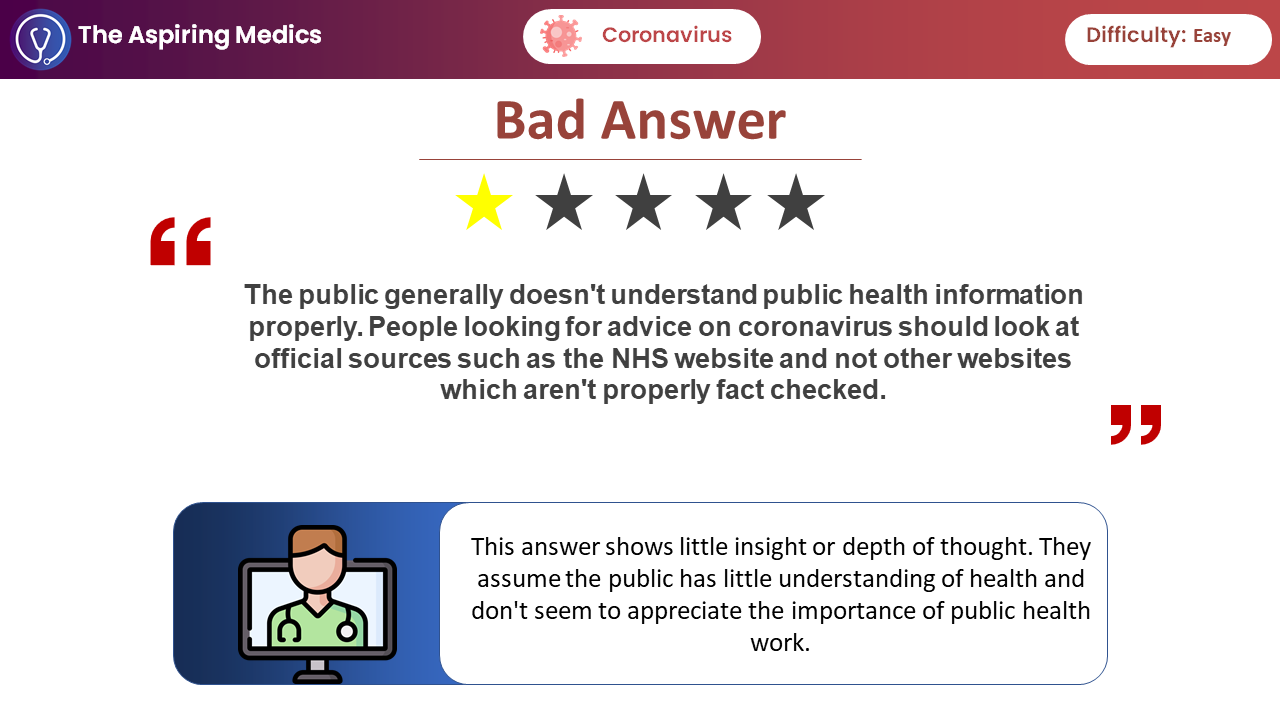 Bad Answer Example & Analysis
Identify the downfalls of a poor answer to ensure that you do not make the same mistakes!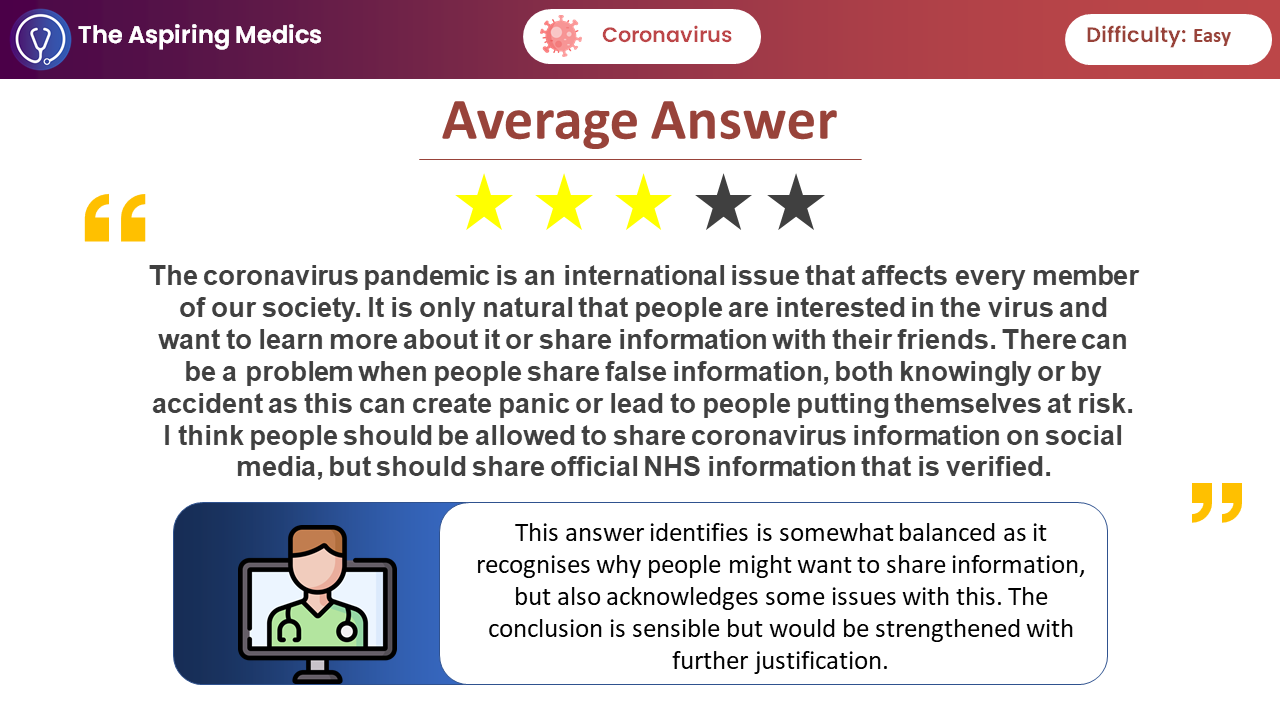 Average Answer Example & Analysis
Understand what a mediocre answer is so that you can recognise its strengths and weaknesses. This will allow you to stand out from the crowd with an original answer.
Great Answer Example & Analysis
Recognise how a great answer is crafted so that you can demonstrate a sophisticated perspective to admissions tutors.
Categories:
😷 COVID-19
Understand the social, economic and health effects of the pandemic 

Explain the importance of track and trace 

Appreciate the public health principles underlying the government's response to coronavirus 
⚖️ Medical Ethics
Discuss the laws surrounding abortion in the UK

Understand the duties of a doctor 

Illustrate the application of the four pillars in clinical scenarios 
🔥 Motivation
Discuss your extra curricular experiences and relate them to skill sets as a doctor 

Crystallise your reasons for wanting to pursue medicine in spite of the challenges doctors face 

Demonstrate a well-rounded, realistic perspective of medicine 
🏥 NHS
Discuss different roles of the General Medical Council and regulatory organisations

Analyse the importance of members in a Multidisciplinary Team 

Understand the current and future priorities for the NHS 
💉 Situational Judgement
Appreciate the principles underlying ethical decision making 

Understand the appropriate times to ask for help 

Recognise the prevalence of burnout and the need for coping mechanisms